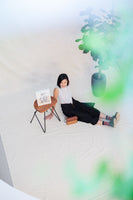 Shentonista Restyled
In an oversaturated fashion market, we're adopting the belief that less is more: Shentonista Restyled features clothes, accessories and artworks that were once-loved, and now ready to be passed on to new homes, with whole ensembles and outfits curated by Shentonistas that we've had the pleasure of featuring and getting to know over the years. 
Shop the 2nd series of Restyled now. 
view more
Shentonista Wares
Proudly made by Shentonista, in collaboration with local brands and artists.
view more